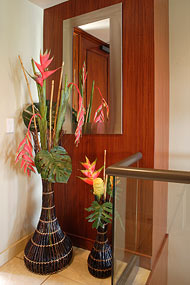 If you like my creations, but have a difficult area to decorate, or if your home or office needs more attention, please give me a call. Working with your specific dimensions and colors, or perhaps a photo of the area, we can transform any problem spot into a natural feast for the eyes!
You may even have a favorite container or basket. I can create a beautiful arrangement with or without the container. I have sent arrangements to the mainland U.S. to be placed within measured openings of various vases and baskets.
I would love to work with you on a personal basis. Give me a call to personally customize a specific design for any area.
Here are some sample Designs!
Click for larger images